January 9-29, 2023
21DAYS of Fasting > Focused Prayer > Daily Readings > Podcasts
During our 21 Days of Prayer and Fasting, we encourage fasting as a spiritual next step that can bring clarity and revelation into your life.
If you sense God has more for your life, 21 Days of Prayer is a great place to start believing Him for all that He has for you. You will start to see the power of prayer impact your relationships, work, family, and every area of your life. We would love for you to be part of 21 Days of Prayer and Fasting.
Through the duration of 21Days, the sanctuary will be open for prayer at these times:
Mondays, Tuesdays, and Fridays 6:30 - 7:30 a.m.
Wednesdays and Thursdays 7:00 - 8:00 p.m.
Follow along with each daily prayer focus listed below.
Read the Bible passage and the daily devotionals in "Life & Death: The Power of Words" by Rob McCorkle. These books are available in the lobby or you can order your own copy from your favorite online store.
Listen to the new ShepNaz Podcast that will drop its first episode on January 4th. The first 3 weeks of podcasts will be based on the devotional readings.
Ready to make your 21 Day Commitment?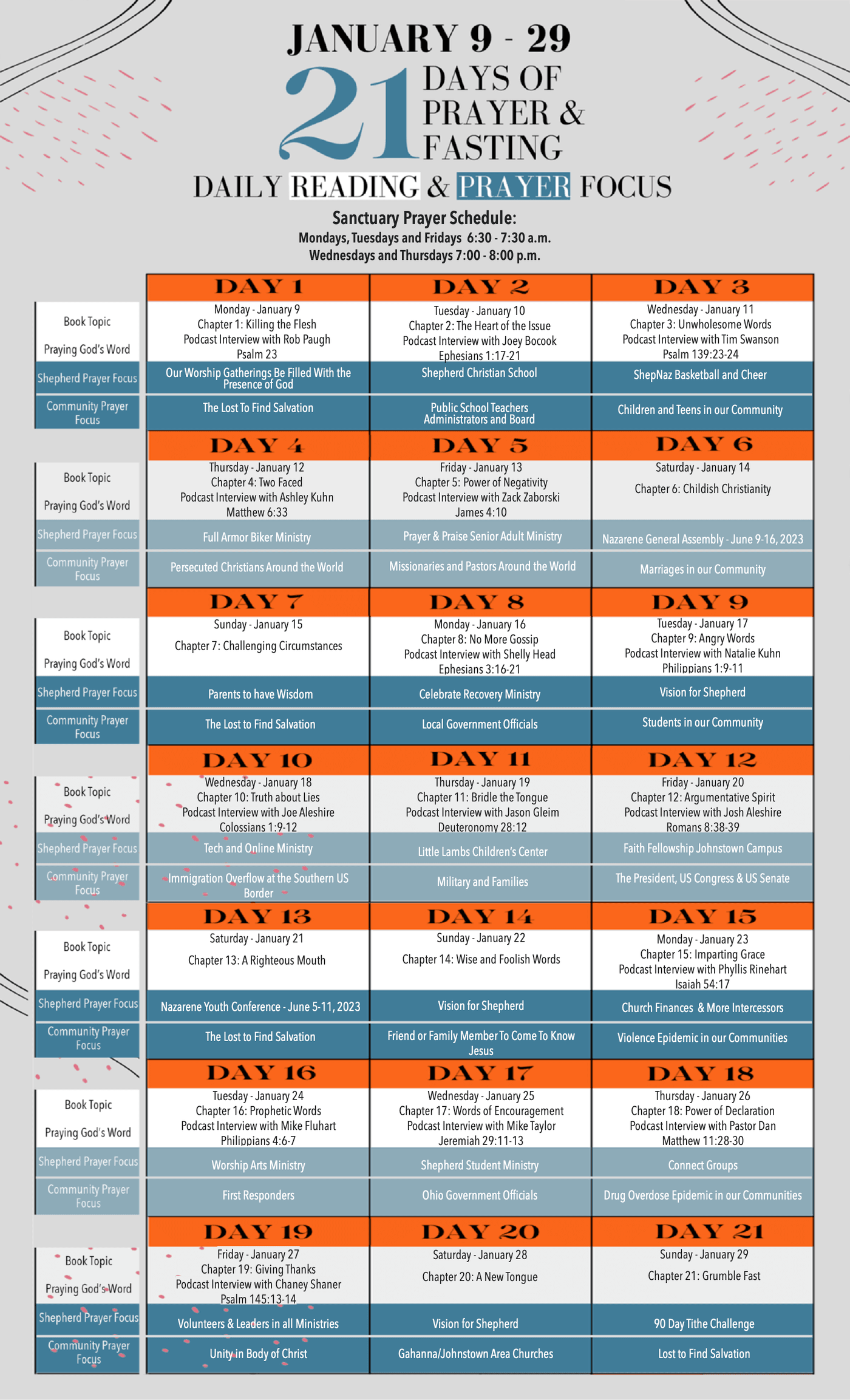 Video Resources for Prayer
The hour that changes the world
This video resource includes a 1-hour Guided Prayer Wheel and two messages from Pastor Rob on the Power of Prayer
your kingdom come
This 9-part Series explores the model of the Lord's Prayer. Learn how Jesus taught us to prayer, and just importantly, how not to.