Message Notes
You can add your own notes as you follow along with the message, and when completed, you can email both the outline and your notes to yourself or to others!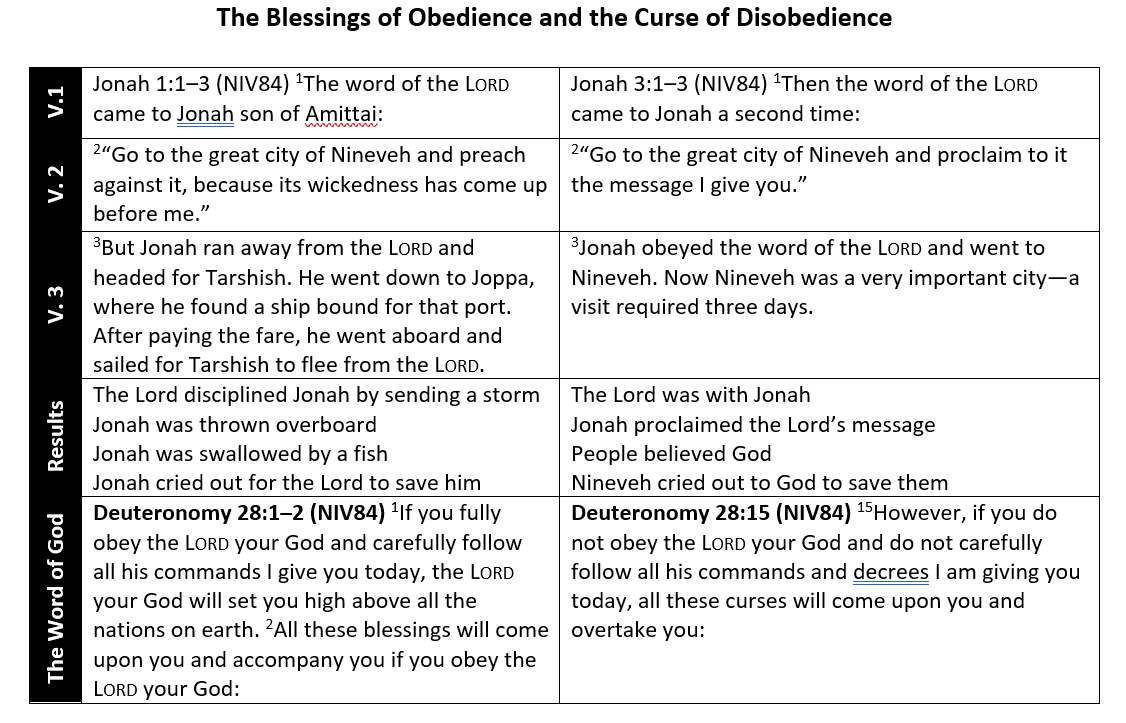 • The Word of the Lord comes to us . . . We always have a response . . . Our response determines God's next step . . . God's next step is connected to our response.
o Obedience brings __________________ to us and others.
o Disobedience brings ________________ to us and others.
Three Observations About Jonah's Message.
1. Jonah's message was not ____________________, and ours doesn't have to be either!
Jonah 3:4 (NIV84) 4On the first day, Jonah started into the city. He proclaimed: "Forty more days and Nineveh will be overturned."
A. Jonah's message was only ________ words. (4 words in Hebrew!)
• Jonah only said what God told him to say and then he left the ______________ to God.
B. Jonah's message was not very encouraging, it was ______________ and ________________!
• Why Doom and Gloom is Important:
o Doom and gloom is an important part of the Gospel. It's part of why Jesus came to save us!
o Only sharing the love side of the Gospel, _________________ the whole Gospel.
Romans 6:23 (NIV84) 23For the wages of sin is death, but the gift of God is eternal life in Christ Jesus our Lord
There really is a hell and people will really go there if they _____________ the Gospel.
We can help people stay out of hell!
o Doom and gloom are what makes the Gospel really ______________________.
o Doom and gloom can be a ________________ factor for someone to respond to the Gospel.
o Doom and gloom positions us in a place of _________, which is needed to accept the Gospel.
2. When Jonah preached his message, the people believed _______________ . . . not necessarily Jonah.
Jonah 3:5 (NIV84) 5The Ninevites believed God. They declared a fast, and all of them, from the greatest to the least, put on sackcloth.
A. The gospel doesn't need our help, it already possesses the _______________ of God.
Romans 1:16 (NIV84) 16I am not ashamed of the gospel, because it is the power of God for the salvation of everyone who believes: first for the Jew, then for the Gentile.
• We should know __________ we believe, and _______ we believe it.
1 Peter 3:15 (NIV84) 15But in your hearts set apart Christ as Lord. Always be prepared to give an answer to everyone who asks you to give the reason for the hope that you have. But do this with gentleness and respect,
• It is not our responsibility to _________ people of their sin or __________ them they need God.
John 16:8 (NIV84) 8When he [The Holy Spirit] comes, he will convict the world of guilt in regard to sin and righteousness and judgment:
o It is our responsibility to ___________________ the Gospel!
Matthew 28:18–20 (NIV84) 18Then Jesus came to them and said, "All authority in heaven and on earth has been given to me. 19Therefore go and make disciples of all nations, baptizing them in the name of the Father and of the Son and of the Holy Spirit, 20and teaching them to obey everything I have commanded you. And surely I am with you always, to the very end of the age."
B. True belief responds with ________________ and ______________________.
Jonah 3:6–9 (NIV84) 6When the news reached the king of Nineveh, he rose from his throne, took off his royal robes, covered himself with sackcloth and sat down in the dust. 7Then he issued a proclamation in Nineveh: "By the decree of the king and his nobles: Do not let any man or beast, herd or flock, taste anything; do not let them eat or drink. 8But let man and beast be covered with sackcloth. Let everyone call urgently on God. Let them give up their evil ways and their violence. 9Who knows? God may yet relent and with compassion turn from his fierce anger so that we will not perish."
1 John 5:3 (NIV84) 3This is love for God: to obey his commands. And his commands are not burdensome,
3. Everything changes when people _____________ the Word of the Lord!
Jonah 3:10 (NIV84) 10When God saw what they did and how they turned from their evil ways, he had compassion and did not bring upon them the destruction he had threatened.
APPLICATION:
· There's more at stake than just our blessing or cursing when the Word of the Lord comes to us!
· When we share the Gospel, it doesn't have to be an eloquent presentation, we just need to say what God leads us to say.
o Also, not an excuse to not be prepared.
2 Timothy 4:2 (NIV84) 2Preach the Word; be prepared in season and out of season; correct, rebuke and encourage—with great patience and careful instruction.
· We need to share both sides of the Gospel. The "God loves you" side, and the "There's a hell side!"
· Obedience is deeper than words, it involves action.