Let Full Armor know you will bring your killer chili or your best dessert!
Email Phyllis at pstewart@shepnaz.org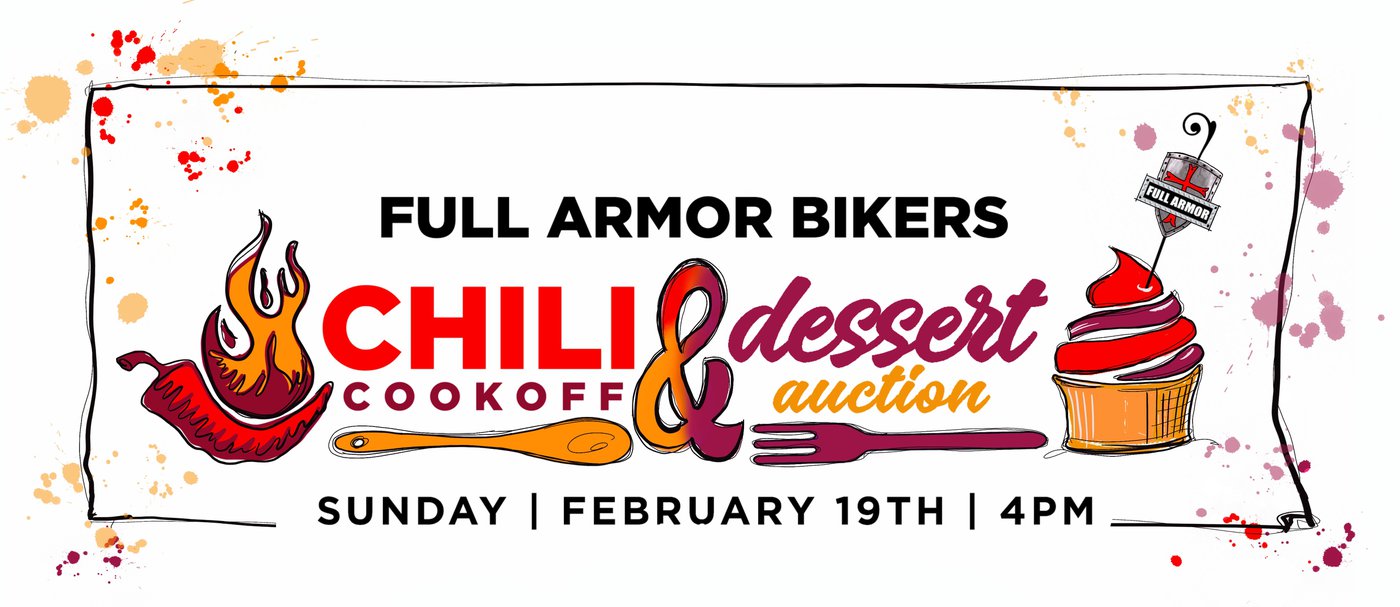 You do not have to bring a pot of chili or a dessert - you can just come and enjoy eating at the event!
Sunday, February 19th, 4-6pm
Bring the whole family to enjoy the Full Armor Chili Cook-off and Dessert Auction!
For $10/person $5/for young-uns ($25 family max) you can try all of the chili your heart desires!
Be prepared to buy desserts by the slice, or to bid on deluxe desserts!
What to expect:
Chili entries should be delivered to the kitchen by 3:30.
Chili sampling begins at 4pm.
Dessert auction bidding begins at 4:45.
Chili winners announced at 5:30.
Winner of Best Chili is people's choice.
We aim to be all done by 6pm
Chefs eat free, but please pay for the rest of your family!
Have a killer chili recipe?
Email Phyllis at pstewart@shepnaz.org to let Full Armor Bikers know you will bring it!
Love to bake?
Email Phyllis at pstewart@shepnaz.org to let Full Armor Bikers know you will donate your favorite dessert for the auction!
Questions?
Email Phyllis at pstewart@shepnaz.org
DETAILS -
Chili Chefs:
Chili entries are anonymous. Bring your chili to the kitchen at 3:30 and we will number it, write down ANY unique details, note the spicy rating, and move your chili to a random power strip in the gym to keep it hot.
If your chili is best with cheese or crackers, or any other condiment, please bring that too, with a container to serve it from if needed. Plan to set that up next to your crockpot. You can have a sign to go with your chili, but keep the chef's name anonymous.
Full Armor provides a station with cheese, cornbread, chips, etc. Utensils and paper products are provided by Full Armor.
Winners will be chosen by votes from all ticket holders and announced at the end of the event. Your prize is a trophy and bragging rights for the year!
Dessert Chefs:
Bring your dessert to the church kitchen by 4pm. Please attach a paper with your name, the name of your dessert, the recipe (if you wish to share it) and any details that will make your dessert more interesting.
Some desserts will be auctioned, and some will be cut up and sold by the slice or bagged and sold separately.
Thanks again for supporting Full Armor!
All proceeds go the general funds for Full Armor Biker Ministry.
PAST WINNERS!